Kathleen has taught SMR workshops in various Canadian Provinces and in several countries including:  Spain, Indonesia and Malaysia
PAST WORKSHOP CLIENTS INCLUDE: Repsol Sport Center (Calgary Ab.), Canadian Massage & Manual Osteopathic Therapists Assoc., (Edmonton Ab.,) Alberta Kinesiology Assoc., (Edmonton Ab.), University of Calgary Sports Medicine Clinic, University of Regina Kinesiology Assoc., Canadian Back Institute (Red Deer Ab.), Calgary Police Services, The Kuantan Medical Centre (Malaysia).
OVER THIRTY CANADIAN PHYSIOTHERAPY CLINICS AND PILATES STUDIOS have benefited from learning SMR techniques from Kathleen.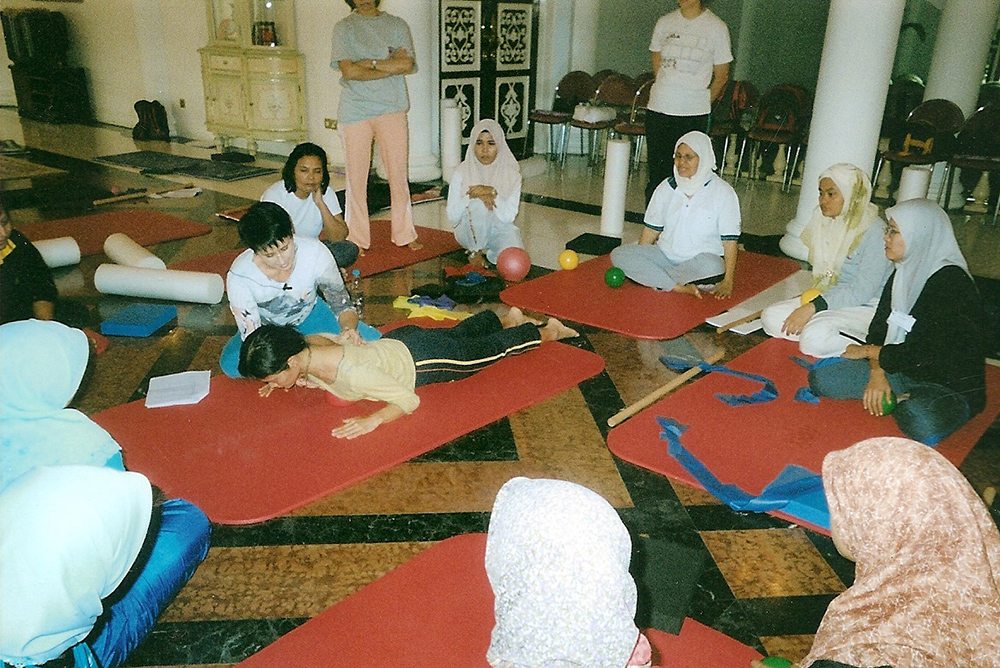 SMR Course History
2022
Saskatoon, SK – Canadian Massage & Manual Osteopathic Therapists Association
Calgary, AB – Primary Care MD
2021
Calgary, AB – Canadian Massage & Manual Osteopathic Therapists Association
2019
Calgary, AB – Repsol Sport Center
Edmonton, AB – CDN. Massage & Manual Osteopathic Therapists Assoc.
Calgary, AB – B2P Pilates Studio
Cochrane, AB – Centre Pilates
Calgary, AB – Lakeview Physiotherapy Clinic
2018
Calgary, AB – Momentum Health Clinic
Calgary, AB – Lakeview Physiotherapy Clinic
Calgary, AB – Lakeview Physiotherapy Clinic
2017
Calgary, AB – Lakeview Physiotherapy Clinic
Calgary, AB – Glencoe Club
2016
Calgary, AB – Harmony Yoga Studio
Calgary, AB – Tower Physio
2015
Calgary, AB – Tower Physio
Montreal, QC – Core Basics Studio
2014
Edmonton, AB – Alberta Kinesiology Association
Saskatoon, SK – Saskatoon Pilates Training Center
2013
Grande Prairie, AB – LaValley Physical Therapy
Calgary, AB – LifeMark Physiotherapy
Calgary, AB – Tower Physiotherapy Clinic
Calgary, AB – Tower Physiotherapy Clinic
2011
Calgary, AB – University of Calgary Sports Medicine Clinic
Birch Bay, AB – Alberta Remedial Massage Association
Red Deer, AB – Canadian Back Institute
2010
Calgary, AB – LifeMark Physiotherapy
Winnipeg MB – University of Regina Kinesiology
Edmonton, AB – Alberta Kinesiology Assoc
Calgary, AB – Calgary Police Services
Calgary, AB – LifeMark Physiotherapy
2009
Birch Bay Ranch, AB – Alberta Remedial Massage Association
Edmonton, AB – Integration Pilates Studio
Saskatoon, SK – Saskatoon Pilates Training Center
Grand Prairie, AB – LifeMark Physiotherapy
Calgary, AB – LifeMark Physiotherapy
Calgary, AB – LifeMark Physiotherapy
2008
Calgary, AB – LifeMark Physiotherapy
Edmonton, AB – Integration Pilates
Edmonton, AB – LifeMark Physiotherapy
Saskatoon, SK – Saskatoon's Pilates Training Center
Calgary, AB – LifeMark Physiotherapy
Saskatoon, SK – Saskatoon's Pilates Training Center
Calgary, AB – LifeMark Physiotherapy
Calgary, AB – Calgary Police Services
2007
Elche, Spain – Fisioclinic Sonia Del Rio
Alicante, Spain – Body Mind Studio
2006
Alicante, Spain – Body Mind Studio
Jakarta, Indonesia – Pilates at Celebrity Fitness
Jakarta, Indonesia – Pilates at Celebrity Fitness
Kuala Lumpur, Malaysia – Body Logic Studio
Kuantan, Malaysia – Kuantan Medical Center, 2004
2005
Kuantan, Malaysia – Kuantan Medical Center
Kuala Lumpur, Malaysia – Body Logic Studio
Kuala Lumpur, Malaysia – Body Logic Studio
Kuala Lumpur, Malaysia – Body Logic Studio
2004
Kuantan, Malaysia – Kuantan Medical Center
Kuala Lumpur, Malaysia – Body Logic Studio