TRE® is being practiced by countless first responders & emergency personnel around the world.
TRE®
TENSION & TRAUMA RELEASE EXERCISE
The method provides a body-based, stigma-free, trauma-informed model of resilience. It has a strong focus on the self-regulation of the central nervous system and self-management of occupational performance & wellbeing.
Shakes and tremors can occur spontaneously after stressful or traumatic events as a natural recovery response.  TRE® normalizes this response and can be used to 'debrief the body' after critical incidents, as part of standard recovery routines to help build 'neurobiological resilience' in the nervous system over time.  It can also be used at the end of a shift, to help the transition from work to home life, by switching off hypervigilance and shifting the physiology of the body to calmer, relaxed and more relational states.
TRE® is being used by First Responders and elite athletes all over the world. It is embraced as a performance enhancing technique that offers preventative outcomes and a general sense of well-being.
TOP 3 REASONS
FIRST RESPONDERS LIKE TRE®
CONVENIENT: It can be done anywhere or anytime you need it, in as little as five minutes and no equipment is required.
INEXPENSIVE: A simple process that only takes a few hours to learn, in groups or privately (virtual or in-person), makes it very cost effective. Once learned you will have the skill for life.
UNCOMPLICATED: Its easy to do, taking almost no mental focus or physical effort. You simply lay down and allow the process to happen. You don't have to go anywhere, do anything, or talk to anyone.
TOP 10 BENEFITS OF TRE®
EMPOWERS you to release muscular tension, reduce stress and anxiety
REBALANCES your central nervous system, below the level of conscious control
PROVIDES an alternative approach to talk-therapy & meditation to help prevent stress, vicarious trauma, burnout & PTSD
SUPPORTS and enhances the effects of other treatments and self-care practices including any exercise you already do
ENABLES you to self-manage your occupational performance and overall wellbeing
SWITCHES OFF HYPERVIGILANCE provides a quick and easy tool to assist you in transitioning from work to home life
INTEGRATES easily into your existing exercise & recovery routines and is a technique that you will use throughout your whole life
IMPROVES SLEEP even when most fatigued, it can be done lying in bed to improve sleep quality and help you get to sleep
CREATES CALMING MEDITATIVE RESULTS without having to clear your mind
STIGMA-FREE, body-based, trauma-informed model of resilience training, focusing on self-regulation of your central nervous system
The Evidence for TRE®
Due to its ease of use and immediate effect of reducing hyperarousal and muscular tension, TRE® was identified by the US Military as one of the five most promising techniques to regulate the nervous system. A controlled clinical trial using TRE® for the treatment of stress and PTSD is currently underway in the US Department of Veteran's Affairs. Peer-reviewed research has also shown TRE® helps to reduce domestic violence and mental health conditions, as well as improving quality of life and the capacity to deal with adversity.  Click here for the TRE Research Database.
In Australia, evaluations by front-line health professionals consistently report immediate calming effects and they unanimously recommend TRE® for other staff in their organizations.  At the individual level, the benefits of TRE®are also instantly verifiable using wearable technology that measures sleep quality and heart rate variability, critical neurobiological markers of optimal performance and sustained resilience across their career-span.
Find out how to bring a TRE® RESILIENCY training program to your organization, specifically tailored to meet your needs.
Mikal Vega - Retired Navy Seal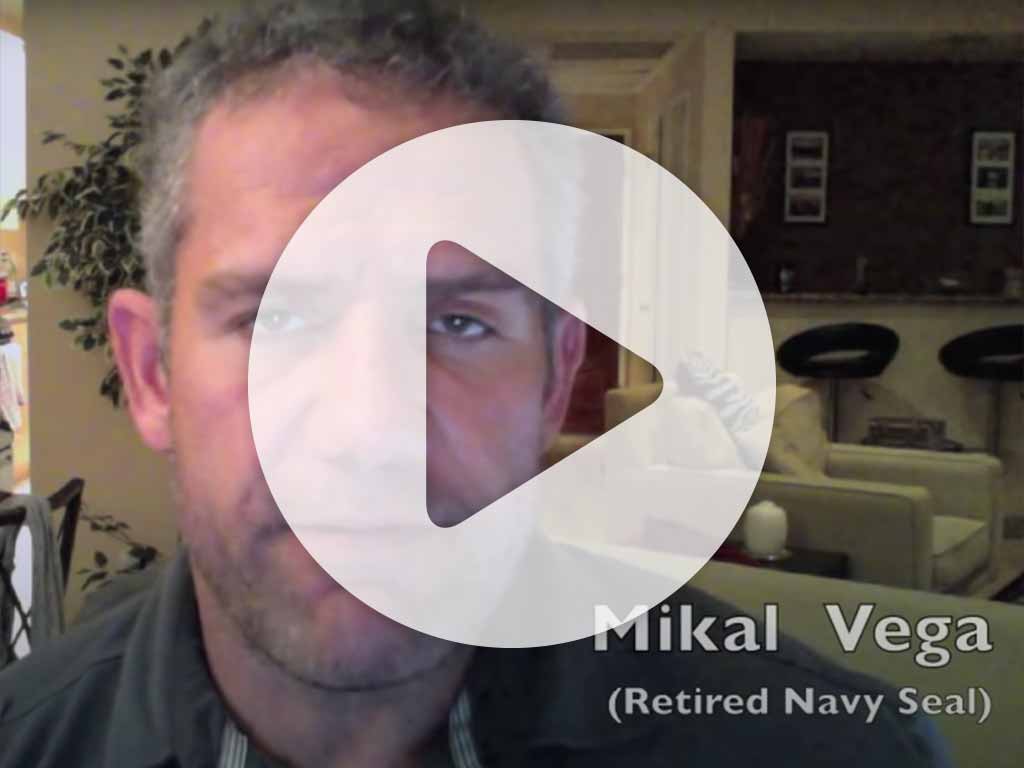 HOW CAN I LEARN TRE®?
In-Person Or Live-Virtual &
Privately Or in Groups
LENGTH OF TIME TO LEARN
The basics can be taught in one hour and you have enough information to practice immediately on your own.
Most people need a total of four sessions of 1 to 1.5 hours. The very important skills of what we call "self-regulation" must be learned to have a lifetime of a safe and beneficial TRE® practice.